.. da war schon wieder der Paketbote da. Er muss diesen
Monat nämlich öfter mit Päckchen für mich vorbei schauen :-).
Und ich freu mich wieder unheimlich!
Meine Belegexemplare für das Gruseltier sind da und ich
habe noch gar nicht mit den Büchern gerechnet. Nächste Woche
Donnerstag ist nämlich der offizielle Erscheinungstermin
und dann gibt es das Buch auch im Laden zu kaufen! Yeah!!!!
Das Gruseltier ist wenn man es genau nimmt, das erste richtige
Bilderbuch, dass ich illustriert habe und das es im Laden zu
kaufen gibt!!!
Der Text ist von Rose Pflock –> klick!
Und das Buch erscheint bei NordSüd! –> klick!
–
Dear Folks, sorry for not writing in english recently!!
My new and when you are very accurate, first picture
book copys arrived to my place today.
The book will be in stores, in the german speaking area,
next week. I'm so excited, I think I can not hide it :-D!!
Written by Rose Pflock –> click!
Publisher is NordSüd! –> click!
–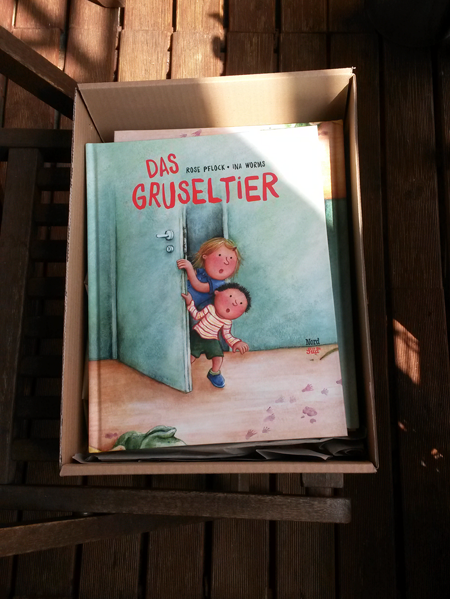 –